The Climate Policy Institute held a one-off professional event in the U.S. capital in cooperation with the Embassy of Hungary in Washington, D.C.
The discussion focused on energy cooperation in Central and Eastern Europe, as well as possible solutions to the crisis. The event was attended by a plethora of diplomats stationed in the U.S., congressional staffers, U.S. governmental officials, business leaders and media representatives.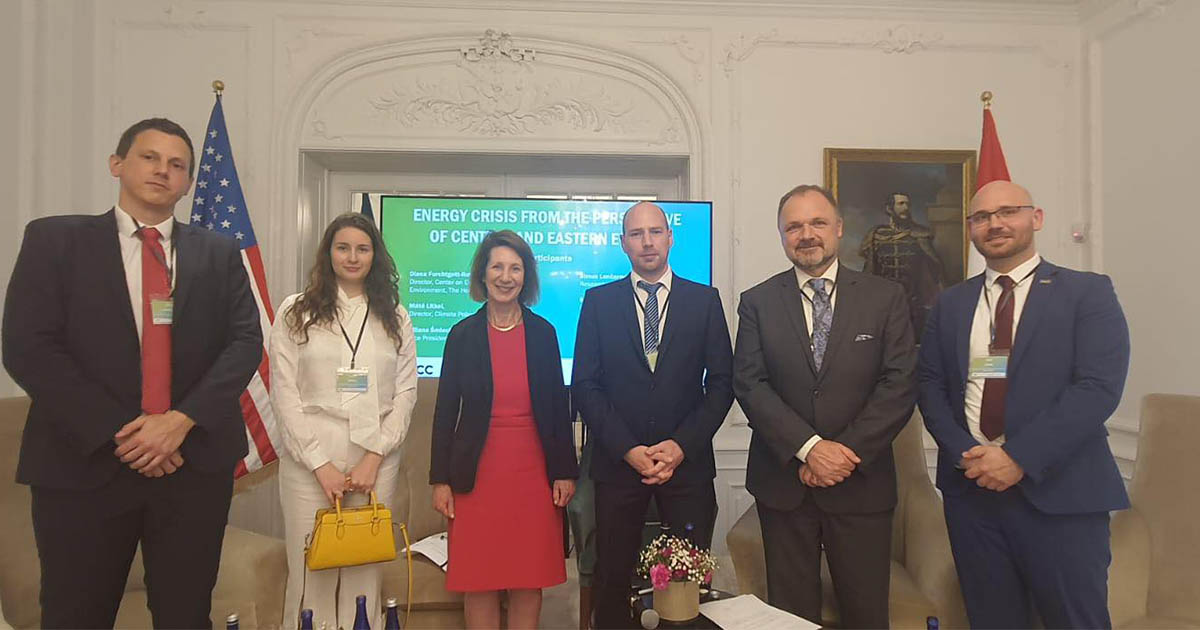 This is unsurprising given the utmost relevance of the topic and the cohort of high-level speakers, including:
Diana Furchtgott-Roth, Director or the Center for Energy, Climate and Environment at the Heritage Foundation, United States

Liliana Śmiech, Vice President of the Warsaw Institute, Poland

Šimun Lončarević, researcher at Energy Institute Hrvoje Požar (EIHP), Croatia

Szabolcs I. Ferencz, Chairman of the Board & CEO of FGSZ Natural Gas Transmission Ltd., Hungary
Read the exposé delivered by CPI director Máté Litkei at the event:
Regarding the events of the last year or two, it can hardly come as a surprise to anyone that energy policies throughout Europe must be reconsidered and restructured. This issue was visible before the Russia-Ukrainian war as a result of the rupture of supply chains during COVID-19 and became more apparent after February 24, 2022. Energy prices skyrocketed, causing massive inflation in many countries as a knock-on effect.
New energy policies in Europe must be based on four cornerstones to address the threats we're currently facing.
The first of these is electrification. Electricity has many advantages, including the possibility of local production via renewable energy sources and nuclear power plants. This increases EU countries' energy sovereignty, which should be crucial to decrease dependence on Russian fossil fuels. Electricity, if produced properly, is also a clean source of energy, thus promoting EU-level climate goals.
As the full electrification of energy production is not an overnight endeavor, the second fundament of European climate policies should be increasing energy production capacities within European countries, aiming to prepare the continent for an intermediate period between Russian fuel dependence and a fully renewable energy sector. This requires bridge technologies to secure the safety of supply until we have sufficient storage capacities to store energy from weather-dependent renewable sources. These technologies include power plants based on fossil fuels, but also the development of the mining sector to seize the opportunities buried in the ground of Europe. We must use our own minerals and natural resources to increase our energy sovereignty.
Although increasing the usage of our own resources is important, we're still going to need energy imports to satisfy the needs of our people and our economies. To do so without endangering our independence, the third key to European energy policies is the diversification of outer resources. We cannot afford to be as subjected to a single provider as we were to Russia before the war. We also cannot risk placing ourselves in a subordinate role when dealing with new partners as a result of urgency. We need multiple suppliers with new naval routes and pipelines to compete for our demand, instead of us competing for their supply. This would allow more favorable energy prices and a less vulnerable position for Europe.
The fourth desired cornerstone of new European energy policies (and new global energy policies for that matter) must be efficiency. This statement might sound commonplace, yet it is more relevant than ever: the cheapest and cleanest energy is energy that goes unused. However, the decrease in final energy consumption must not result in a decline of economic productivity: energy efficiency improvement should not cause a recession.
If these four conditions – electrification, internal energy production, diversification of outer sources, and increasing energy efficiency – are met, the future of Europe's energy supply and economic development is bound to succeed.
The text has been edited for length and clarity.