In recent years, greenhouse gas emissions in the European Union have been steadily decreasing. However, the transport sector did not follow this trend and is increasingly contributing to EU greenhouse gas emissions.
Today it is about a quarter of the EU's total emissions. The share of transport from final energy consumption is 31-32 per cent, which is the largest end-user sector. Most of the fuels used are fossil fuels. Between 1990 and 2022, road traffic, i.e. cars, trucks and buses, was responsible for more than 70 per cent of total emissions.
The European Parliament officially approved the regulation that requires major car manufacturers to only sell climate-neutral vehicles during their operations from 2035. The undisclosed aim of the measure is to accelerate the transition to electric vehicles. This means that the need for batteries will dramatically increase soon. Current trends show that the share of hybrid and electric cars in the European new car market will exceed 50% within 5 years, while Europe is changing from a car exporter to a net importer.
The share of Asian companies is enormous in the battery production market. 92% of the batteries produced for electric vehicles are produced by Asian companies, 56% of the market is covered by Chinese companies, 26% by South Korean ones, and 10% by Japanese companies. The largest manufacturer, China's Contemporary Amperex Technology, alone accounts for a third of the global market, serving Tesla, Peugeot, Hyundai, Honda, BMW, Toyota, Volkswagen and Volvo, as well as Chinese factories.
The Top 10 EV Battery Manufacturers in 2022 and their market share are:
Contemporary Amperex Technology Co. (34%, China),
LG Energy Solution (14%, South Korea),
BYD Co. (12%, China),
Panasonic (10%, Japan),
SK Innovation (7%, South Korea),
Samsung SDI (5%, South Korea),
China Aviation Lithium Battery (4%, China),
Gotion High-Tech (3%, China),
Sunwoda Electronic Co (2%, China),
SVOLT Energy Technology (1%, China).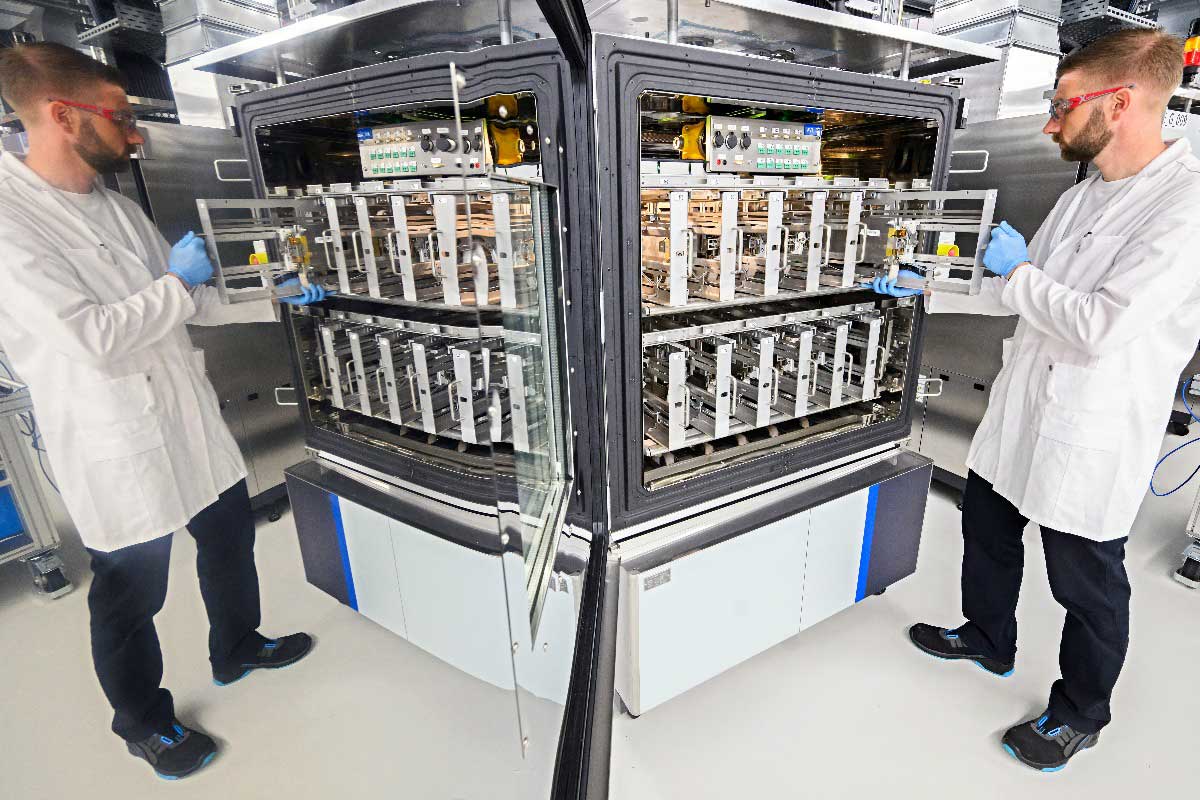 Photo: AFP/DPA/Julian Stratenschulte
The development of Chinese dominance was helped by the policies of the Beijing government. Over the past decade, tax breaks and almost $15 billion in direct support have been provided to the sector, thus ensuring the country's technical superiority. The great advantage of value chains built by Chinese companies is that they have an abundant supply of metals essential for battery production. Chinese mining firms have made early investments in companies that have concessions in South America, Africa and Australia. For example, 85 per cent of the refined cobalt required for lithium-ion batteries is supplied by Chinese companies.
The Commission estimates that to cover the EU demand alone, the battery market requires 20-25 Gigafactories to be established in Europe. Another bottleneck for creating the entire battery value chain is the availability of raw materials. Currently, the EU is reliant on imports of primary battery raw materials from third countries.
Operating factories and planned production capacities that we know of in Europe are expected to reach 2,000 gigawatt hours by the end of the decade, roughly a third of which will be built by large Asian companies. In contrast, European investments alone are approximately 55%.
By the end of the decade, Europe's largest battery-producing country will also be Germany which is the strongest automotive industry. In addition to European investors, Tesla, and China's CATL and SVOLT are also building factories in Germany. The South Korean LG has a production line in Poland, which currently has the largest production capacity in Europe. South Korea's SK Innovation and Samsung have production lines in Hungary, which still occupies a place on the podium of the list; CATL is planning an investment, and EVE has also emerged as a possible additional investor.
Currently, less than one-sixth of the global battery production capacity is in Europe. By the end of the decade, this value may reach 20%, which may be sufficient to meet the continent's electric vehicle needs. However, Europe still suffers from a shortage of raw material sources and processing, and it is currently unclear how Europe could reduce Asia's dominance after a wasted decade. Maroš Šefčovič, Vice-President of the European Battery Association gave a report on four European lithium mine investments, which could be enough to satisfy 80% of Europe's lithium needs in the battery sector. However, some materials especially cobalt are still scarcely available, which encourages cobalt-free battery developments. Overall, it can be seen that Europe is currently competing with the USA for second place, not with China for first place.